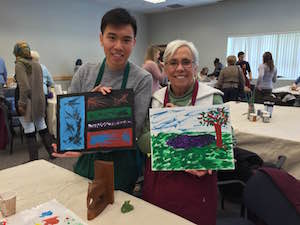 Today, my PAL and I engaged in painting inspired by touch and memory. We were asked to bring in a personal item to share with our partners and serve as inspiration for our paintings. I brought in a small ceramic frog sculpture that helps remind me to be patient and thoughtful, while my PAL brought in a beautiful wooden elephant bookend, a souvenir from her travels in Africa. It was amazing how we both knew exactly what the other brought in just from touching and just as amazing that each object evoked in the other strong and emotional experiences in our lives.
My PAL's elephant reminded me of an anecdote my old supervisor told me about communication: even though we all may be touching an elephant, unless we communicate we may think we're all touching something different. That translated into some visual and evocative expressions of color, lines, and contrast in my painting: light blue reminded me of my supervisor, blocks of bold color the represent books and learning, while chaotic and random lines with contrasted colors represented the communication and interpretation which occurs every day. My PAL, inspired by my frog, was reminded of a time in her twenties when she was invited to go frog hunting with a shotgun! To go along with her elephant, my PAL shared stories of where the bookend came from, her time in Tanzania, and living amongst the villagers.
My abstraction and my PAL's literal interpretation of our objects so how differently we can come to understand our own emotions and memories and how, even random objects can remind us of events long ago or important lessons we hold close to ourselves everyday. The personal items we brought it held a story and was sort of a bridge to connect to different aspects of our lives that we may perhaps missed an opportunity to share about.
Huy Ho, first year MSW student