"Aging gracefully: PALETTE, an intergenerational arts program, pairs VCU students with senior adults to overcome ageism through art"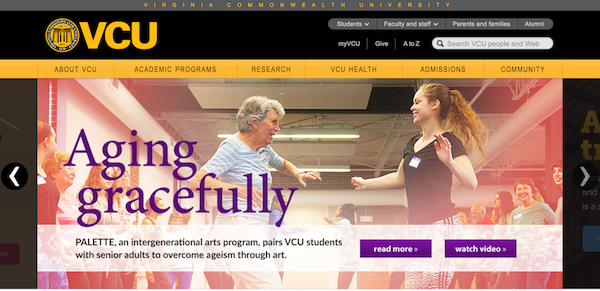 March 21, 2016 PALETTE is featured on the homepage for VCU with photos and video from inside our programming. PALETTE became a reality because of the wonderful faculty, staff and students at VCU and we thank you for the support, VCU Department of Gerontology, School of Pharmacy, Department of Physical Therapy, Department of Dance & Choreography, School of Social Work, and Dentistry.
From the article: "Nervous jitters and chatter fill the dance studio on a Sunday afternoon in late February, where PALETTE in Motion participants are waiting for guests to arrive for their final showcase event. The class has met every weekend for the past month and, in addition to learning together about dance, they have learned a lot about one another. 'The older adults are not defined by their age and we are not defined by being pharmacy students," first-year pharmacy student Devki Gajera said. 'Being here gives us the opportunity to just be people and interact outside of what we spend our daily lives doing.'"
Read the full article on VCU's website here.